Hydrate Lotion
(Eau de toilette) 100 ml
The effective elements of nigari, bio-hyaluronic acid, collagen and placenta essence, combined into a high-grade genuine article lotion. The light pink color is not artificial coloring but the natural color of vitamin B12.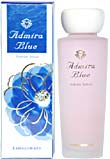 Hair and Body Shampoo 400 ml

Natural amino acid compound proteins protect against dandruff and itchiness while repairing damaged hair and split ends, leaving a lovely sheen. The camelai oil moisturizes dry hair. Your hair will feel the difference immediately.